Please keep the notes, phone calls, e-mails, and pictures coming. They mean so much to me! You will find photos of some of these items in the galleries. Thank you to all my clients, USA and elsewhere- your kind words mean everything to me. (Updated 10/08)
What my clients are saying:
"Just a quick mail to let you know that the response from Stan and Jon towards the jackets has been absolutely fantastic. They love the patches, the pockets and the camelbak. Particularly the straps you built in to the support the weight.....I almost said to Stan, 'We told you so...', but I thought that might be a little childish! Thanks SO MUCH for your time and effort, when we get a job done of that quality it makes all the effort so worthwhile" D.L., Manchester UK. Dave is the team manager for Team Frontrow GB, the UK dirt bike team riding the Dakar 2008, and Stan and Jon are their riders. I added cargo pockets for safety gear, and an internal, intergrated hydration bladder holder to the inside of the jackets.

Update: "The gear you made for us has been great and has been given a good hammering by the guys"
Link: Team Front Row GB ( at the Dakar that did not happen)
Link: Front Row rider in Tunisia
"I want to let you know the outer shell pants you made for me preformed flawlessly on Rainier and Adams. I was caught in storms on both peaks, 50mph winds with snow or sleet (my local friends now call me "Monsoon McCracken"). I stayed dry the entire time in the pants you made." (custom Gore-tex type rain pants)
"The Harley - Davidson rain jackets arrived late today and your craftsmanship and attention to quality and detail is simply absolute perfection. My sincere thanks.............George" (added waterproof pitzips to motorcycle jackets)
"I got the ski pants and they are great , fit well and look really nice. Thanks a lot.Anyway the check is in the mail and I will send you some picture from Alaska." B.S., Sandia Park, NM. (custom Gore-tex type shell ski bibs, $600; client is 6'11)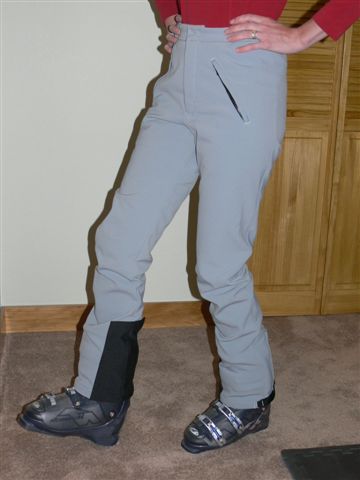 "They just arrived ... and are most excellent! and as they say - the check is in the mail. Thanks again - they fit perfectly and look oh so very high tech! I've been meaning to send you a full report and some photos of my ski pants in action. We had a great ski season ... got in about 22 days - everyone of them with my new pants which I LOVE. " J.S. Golden, CO (custom Schoeller WB400 softshell pants for a gal with a 36" inseam) Link to photo
"I have been meaning to get back to you for a month to tell you how delighted I have been with the backpack bag that you put together for me. As you remember, I immediately went off on a week long backpacking trip to the Wind River mountains within a few days of getting it from you...Throughout all of this, I was glad to have your stoutly sewn backpack bag. I have not a single complaint about it. It suffered no damage at all. The material, the zippers, the stitching, the grommets, and a lot of the little details, are all just a solid as can be. I am sure that this bag will last me for as long as I can keep hiking, and certainly as long as the original North Face bag did." T.K.California. (duplicated frame pack bag, $300.) photo of pack bag. Tom recently sent me an update, and another photo that I added to the packs gallery.
"The package arrived this morning. I have tried on all 9 pairs, and they are just perfect! These are going to make a huge impact on my enjoyment of cycling, hopefully for years to come. Last week I went for a ride wearing one of my old pairs of shorts that I used to like and compared to the new ones it felt like a cruel and inhumane torture device. The new ones feel like a favorite old pair of blue jeans, and since I will often need to spend several days in a row wearing each pair that is a very good thing" M.A., Martinez, CA ( 10 pairs of bike shorts for a round-the-world cycle tour) more commentary here. Also, check out Micheal's very cool bike tour site, http://www.terminalia.org/tour/
"I'm the happiest man in Leeds" " I've just tried the jersey on and everything seems to fit superbly - I really am amazed at your crafts-womanship" S.C., Leeds UK. (second jersey) Photos here
"The shirt has arrived this morning, thanks. I've tried it on very briefly My first impression is that it is superb.You're a star, I'm really glad I found your website. You can't imagine how disheartening it has been trailing round from cycle shop to cycle shop trying to find a shirt, good money in my pocket to spend, but they just don't have anything even close. A heartfelt Thank You." S.C. Leeds, UK (custom cycle jersey, client is 6'6", 290#)
"In early December I discovered moths had gotten into some of my cashmere and wool sweaters. Thom suggested I turn them into cycling jerseys. Well, I sew, but not that well and I knew I wouldn't wear them if I botched them. So I asked Penny to fix them up for me. For less than the cost of a new wool jersey, she turned my three holey sweaters into awesome cycling jerseys. I will be the most stylish chick on future rides." V.D. Alameda, CA (restyled cashmere sweaters into jerseys)
"This is just to let you know that the tights arrived a few days ago. They fit like a glove! I couldn't be more pleased with them." S.Z., Husqvarna, Sweden (Custom tights, client is 6'7", $90)
"Got the stuff sack in the mail Saturday! Thank you. I wish that you could sew all of my outdoor gear- especially the stuff that wasn't sewn right to begin with! A perfect job well done!!" J.C., Eureka, MO
"My hood came today, excellent job thank you very much" S.R. Manchester UK (add volume adjusters to a hood)
"My son's bibs arrived today. I'm sure he will be very happy with the pockets. Thanks very much for your help. M.S. Gaylordsville, CT ( added zip pockets to Gore-tex bibs)
"Just a quick note to say my sacs arrived and they are perfect.Thanks for everything." M.E., Ontario, Canada (custom stuff sacks, 9/04)
"I received the pants yesterday via UPS. Thank you for getting them to me in time for my trip. I eagerly opened the box as soon as I got home from work and I must say that I am extremely impressed with your work. The thigh pockets look like they were always there. The sizing is perfect for my needs. The quality and attention to detail you put into the work is apparent and I am very pleased. The pockets will no doubt make the pants much more useful for ski patrolling, coaching and climbing." I.L., Silver Spring, MD (Added cargo pockets to Patagonia shell pants, 6/04, $60)
"The union suit fit perfect! You are definitely an artisan. The attention to detail is impecable. And to think you were able to get the fit thru email and telephone, amazing! I got my money's worth." D.T., Dandridge, TN (custom union suit of Polartec 100, $140)
"I received the jacket this afternoon. I tried it on immediately and it looks great. I am extremely satisfied with the way you have shortened the sleeves. For the first time I have a jacket that fits perfectly." (shortened Gore-tex shell sleeves 3.5", $45) A.D. Knoxville TN
"I got the tent earlier this week (Monday?) and it looks great! My wife thought it looked like it came straight from the factory--the color even matches . Anyway, I can't wait to use it. Thank you very much!" J.W. Las Vegas (added bug net and doors to pyramid tent $120)
"The work you did on my black TNF jacket is absolutely fantastic, looks like it was done at the factory!" (added zippers to a shell garment to be zip-in compatible with a Denali fleece) R.R. Brighton NY
"The pants fit beautifully and are very, very nice. They were certainly worth waiting for. Thanks again" ( custom Polartec 200 pants) A.U. Hope ID
"I wore the blue Fera suit yesterday for the first time and I would like to thank you -- it could not possibly fit better or feel more comfortable. I think it even improved my skiing. Many thanks." (altered one peice for fit) A.U. Hope ID
"I got the ski pants yesterday. Wow! Very nice work! I appreciate that you taped the seams and the quality of your work. Nicely done." (added internal gaiter and inner wear patches at knees on 3-layer pants) B.L, Poulsobo, WA
"I wore those bib knickers you repaired for me the first time today. An excellent fix, thank you. The Crown Jewel Nemas are still rockin' good as well. You do great work." ( rehabilitation of mountain biking shorts and bibs) J.D. Colorado.
"I want to tell you how happy I am with the purple floor you put in my Omnipotent several years ago." PVB, Newtown, CT. (floor replacement in classic Early Winters tent)
"I received the tent and it was just what I was expecting. Thanks!" R.B. Walled Lake, MI ( added ventilation panels to end of bivy sack)
"Arrived yesterday and looks great! Pads now cover knees perfectly! Can't wait to use it in competition (although I do have to "endure" a summer and fall of cycling before ice skating rolls around again). D.T., Syracuse, NY. (Modified speed skating skin suit with additional padding)
"We received the suit! It is really nice! John really liked it and it fit really well. Thanks for your good work!!! C.P. Park City, UT. (custom polartec one piece, client is 6'5")
"It is absolutely gorgeous work, I particularly love the neck zipper and the way you did the wrists. It fits him perfectly and it is so light and nice he loves it." M.L. Brooklyn, NY ( custom cagoule)
"I received the pants and they look and fit great". A.M. San Jose, CA( added 4" of length to a women's XCR Arcteryx pant, with exact match fabric provided by Arcteryx)
"Thank you for the excellent job that you did putting the water bottle pockets on my GoLite Gust. Money has always forced me to be off the rack but now I have a custom pack" R.C. Georgia
" You are a true artist. The quality of your workmanship exceeded my expectations. I will tell everyone on the mountain about you. You are a unique resource for climbers. All I can say is FANTASTIC JOB!" R.A. New Jersey (red cordura wear patches for butt and knees)
" I am so happy with the job you did on my precious Omnipotent. " P.VB, Conneticut ( replaced floor with new, purple floor on old Early Winters tent)
"Great job and thank you again for turning to this so quickly. Your attention to detail is simply marvelous and your expertise is priceless -- I completely trusted you from the first email and when you called to confirm the measurements I knew that I had made the right choice. I will definitely keep you in mind for the future (and, in the future, I will endeavor not to be so time critical!)" D.H. Los Angeles CA ( shorten Schoeller Dryskin pants above the knee)
"Got the rod case. The quality of your work continues to astound me. What a great, very professional job you did shortening that canvas rod case. And you even salvaged the extra external pocket-- above and beyond the call of duty. Thanks." B.J. Atlanta. GA (modified fly rod case)
"I received the box yesterday. WOW! what a fabulous job you did! I am more impressed than I imagined I would be. The DT Suit looks as though it was made at the factory with those mods. I could not be happier. Thanks again, you're the best!" S.B. Thousand Oaks, CA ( added many Cordura Goretex features to Pac Lite climbing suit: wear patches, knee patches, zipper pockets, butt patches, and shortened above the knee)
"After leading 7 expeditions worldwide, I appreciate the value of good work on gear and clothing, and as you have such a great reputation, I'd like you to handle these repairs if possible. You're well known in Himalayan circles...good craftswomanship on this kind of gear is rare, so word travels far and wide!" S.B. Thousand Oaks, CA
" What a professional job on the tarp, right down to the reinforced corners, a stuff sack, the made in the USA tag and your company tag" B.J. Atlanta, GA (custom silnylon tarp)
"Just wanted to send along a picture of the finished product. Looks and works GREAT! Thanks a bunch!" (altered tent fly, see photo of Kelty on the tent page) W.H. Ida MI
" I recieved my bag yesterday afternoon. It was exactly what I wanted. Thank you!" (altered sleeping bag for ultralight use) E.S. Norman OK
"I got my ski pants and coat today and couldn't believe the great job you had done! You are a master of alterations!! They fit perfectly and I am highly recommending you to all of my friends." R.N., Dillon, MT ( shortened Gore-tex pants and sleeves on coat)
"I'm really delighted with the way it came out and I can hardly wait for it to come out of the laundry so I can go for a ride and test it out." J.G., Hooksett, NH ( lined bike jersey with windblock fleece, turning it into a winter riding jacket, photos on clothing page)
"I got my pack on Monday and everything looks great, exactly as I had envisioned things. Can't even tell what you had to take apart to make things work. I'll be sure to keep you in mind when I figure out which other gear I have that needs improving (this is inevitable)" T.Q., Mechanicsburg, PA ( outside pack pockets added)
"Penny, personalized service is a rare item these days. The combination of this with extremely expert skill defines "Specialty Outdoors"...I am blown away" E.V.,Turlock, CA ( I duplicated a top pack pocket to replace the lost one on a well loved pack.He borrowed one from someone who had the same pack)
"Thanks, Penny. The tent looks great. Thanks for getting it back to us with time to spare". A.G. Portland, OR (added windows to tent)
"The pants came back today! The patches look great. I look forward to using them during the ski season. You did a great job and the work looks very professional" B.L., Poulsbo, WA. ( added wear patches on the inside of goretex pants where velcro from tele kneepads was wearing the fabric)
"I recieved the pants today and just want to say Thank You! They look and fit great - exactly what I was hoping for." N.B., Oakland CA. (custom supplex hiking pants for a 38" inseam)
"I received the ski bag and it looks great! Many thanks for your help" B. DM, Orland Park, IL (ski bag modification)
"Thank you for the great job and the fast service on my suit. I can now wear it with the knees in the right place! B.L. Peabody, MA (shorten NF Goretex one piece above the knee)
"Got my pants yesterday. They look great. Thanks for the good work..." J.J. Palo Alto, CA (shorten technical Gore-tex pants above the knee)
"I have the jacket with me. It looks great!" D.M. Boston, MA (TLC to an old Patagonia shearling coat, one of the original ones)
"The pants look and fit great - I love the suspenders." D.D. Sterling VA (shorten technical Gore-tex pants above the knee)
"The items you made or modified for me have worked quite well, especially the inserts for the OR supergaiters. Our group of 8 made the western summit of Mt. Logan on day 16..." R.S., CDA, ID
"My pants fit great, your work was perfect, I can't even tell they were shortened, THANK YOU" M.P. Pittsburgh PA (shorten technical Gore-tex pants above the knee)
"Got my stuff this morning, great job!!!! You have done a fantastic job of my gear. I will definitely send more work your way..." P.K., Atlanta, GA ( major technical features added to Goretex pants and jacket)
"Got my pants back yesterday and they came out great...." F.P., Manchester MA (shorten technical Gore-tex pants above the knee)
The helmet cover looks great! It was well worth the wait" K. B., Ft. Lewis, CO
"I just wanted to let you know that the polar fleece union suit was a grand success…." P.C., Austin, TX
"The fly just came and I hung it…! It's beautiful…! And the stuff sack was a nice surprise…! Thanks again." M.B., Jackson, WY (custom fly)
"I just returned form a 12 day paddle in the Queen Charlottes…wore my wetsuit every day on the water, and I cannot tell you how much I appreciate the great work you did installing the "relief" zipper….thank you, thank you, thank you!!!" R.S., Astoria, OR
"I am very pleased with the sarong. You did a good job of interpreting what I wanted. If you ever find and material with a paddling motif drop me an e-mail. Thanks!!" C.P., Conyers, GA (taslan sarong to wear while changing in the parking lot)
"My tent was modified exactly as I had envisioned it for the last few months. You have done a wonderful job of creating my thoughts into a functioning piece of gear with a minimum input from me. Thank you once again for your quality workmanship…" T.K., Frankline, TN (ventilation/moon panels added to tent)
"Received my tent back form you yesterday and it is AWESOME. It turned out better than I ever imagined…" R.M., Ocean, NJ (added rain door over screen window)
"I rigged the raft on Wednesday and installed the cargo bin. It fits really well and looks great…..P.S. the "side ears" are really great. Already they have stopped about a dozen things from falling into the raft and getting wedged between the floor and side tubes." B.LC, New Brighton, MN ( custom heavy mesh storage bin to fit raft frame)
"Just a quick note to say "THANKS" for the exceptional workmanship of your repairs. I was truly impressed with your fixes….it was like getting brand new stuff…." T.K., Frankline, TN (miscellaneous repairs)
"I got the pants yesterday. Thanks for the excellent work and the prompt and personal service" M.S., La Jolla, CA (added length to hiking pants above articulated knees)
And here's my chance to say THANK YOU back to every one of you who has been helpful and supportive of my efforts. Moni S., Judith G., Norm H, Val S., Joe E., Kevin K., Sewing Pros, you all deserve special thanks for sharing what you know, and for your encouragement. And a special thanks to my friends and family, especially Craig for your love and for believing in me.