General repairs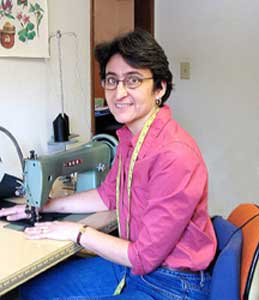 As an active outdoors person, I understand the needs of outdoors people, whether it is revising the fit of something so that it really functions, rehabilitating thrashed gear, or adding a technical feature to an item. I understand why a cycle jersey needs to be longer in the back. Terms like "daisy chain"; "relief zipper" or "pit zips" make sense to me. I especially pride myself on establishing one-on-one relationships with my clients to truly understand their needs. I can create solutions to your most interesting technical gear challenges, or replace a zipper in a well loved fleece jacket, or anything in-between.
For the past 15 years I have been working with backpackers, ultralight hikers, skiers of all types, mountaineers, climbers; whitewater enthusiasts and cyclists, speed skaters, ski & bike patrollers, hikers, and hunters, just to name a few. At last count, I have clients in over 35 states, UK, Sweden, Canada and Asia. In addition, I work with many manufacturers on a referral basis. Thanks!!!
CONTACT INFORMATION:
Phone: 509-448-0346 or email for more information, estimates, or shipping information. info@specialtyoutdoors.com (Please copy and paste, this keeps the spam robots at bay)
Hours: 9-6 Monday-Sat PACIFIC STANDARD TIME. Please do not call before 9 AM PST, after 6 PM PST, or on Sundays or holidays. Please leave a voicemail: I do return calls. You can email us at any time. We are located in Spokane, Washington. Please contact us for shipping information. We work mail order with all 50 states, and some international. If you are in Eastern Washington, you can drop your repairs at Mountain Gear, 2002 N. Division St, 7 days a week, or Spokane Alpine Haus at 2925 S. Regal St., Monday-Saturday.
Please read the Frequently Asked Questions and Policies before you contact me about your project -thanks!
Visit our Facebook page and become a fan:
Specialty Outdoors
Some examples of what I do:
Technical and shell clothing: altering for fit, repairs, modifying features

Add features: pockets, pitzips, zippers, wear patches

Fitting challenges: sleeves, length (too long or too short) torso length, some resizing (see FAQ)

General repairs & rehabilitation (zippers, patches, elastic, Velcro etc.)

Taped Goretex ( and other similar fabrics) alterations & modifications

Special request or idea? Contact me and let's see if it can be done! Trust me, it will not be the most far out thing I've ever been asked to make.
Note - I no longer do tent modifications, backpack repairs and modificiations, or custom clothing, sorry! For tents, we only do basic repairs on small tents now. Also, many basic backpack repairs can be handled by any qualified shoe repair; no need to ship cross country for something you can probably get done in your neighborhood. For clothing issues, I am happy to modify something that's off the rack for better fit, but we do not do "from scratch" technical clothing. Beyond Clothing offers custom shell, softshell and insulated wear at very reasonable prices.
Specialty Outdoors is an Authorized Repair Center for The North Face, Inc.(aftermarket only; no warranty work) and Helly Hansen. Please contact the companies directly for any warranty related issues; contact me directly for aftermarket modifications, clothing alterations or non-warranty repairs.