Tips and Techniques For Sewing Your Own Outdoor Gear
Why make your own outdoor gear? Well, why not!

If you like to sew, and you spend time in the outdoors, you have probably considered making your own gear. Nothing beats saying, "I made it myself!". You can save money also, maybe a little or maybe a lot, and you will have something custom made the way YOU want it. I have found that the biggest challenges for outdoors "sewists" (as we like to call ourselves these days) is where to get what you need, and how to find out the special techniques that might be needed for a particular project. I have been making my own and my family's gear, plus sewing professionally for many years, and thought it was high time to share some tips. Over the years, I have been on a quest for information on sewing outdoor clothing and gear. I have read books, picked people's brains, taken things apart, and used trial and error in order to learn the best techniques. Many of these techniques and tips are not covered in traditional sewing resources. I thought it would be fun to share some of what I have learned with all of you. If you would like to read about "Specialty Outdoors", my outdoors sewing business, visit About Specialty Outdoors.
Visit our Facebook page and become a fan:
Specialty Outdoors
Tips for base layers-zipper and collars
Ayce's Workshop has lots of good how-to's: different seams, pattern ideas, tension and bobbin adjustments....
Looking for ideas or photos? The Project Gallery has lots, but there are photos all through the site.
SEWING MACHINES:
For most projects, any sewing machine will do. Be sure it has been cleaned and oiled recently, and that the needle is new, sharp and properly positioned. You will be able to determine just how 'powerful' your machine is by observing how it responds to multiple layers of heavy fabrics like denim. Power should not be an issue unless you are planning on working with heavier fabrics like Cordura® or webbing. A good zig-zag stitch and a buttonholer are very nice to have, and there are many other stitches that come in handy, like a 3-step zig-zag, but are not necessary. More is not necessarily better in the stitch department.
I get asked, "what machine should I buy". I have no specific recommendations, but here are some things to think about. Consider a used machine if you are just getting started. Many great machines go in on trade just so someone can upgrade to all latest, meanwhile you can get a good buy on a gently used machine. I have found that for the most part, the European lines have more precision and power. Some older Kenmores and Singers are real workhorses, but be very careful. Take samples of fabric with you and test, test, test. Buying from a dealer will get you lessons, training, maybe classes, service and support. Buying from a Big Box store will give you none of this.
Here's an FAQ that answers the question "what machine should I buy" in a general fashion. FAQ
SERGERS AND INDUSTRIAL MACHINES:
A serger (or overlocker) is a specialized sewing machine that trims and finishes a seam simultaneously. It uses a blade to trim the seam allowance, and a series of needles and loopers to finished the seam allowance so it won't ravel. If you look inside almost any knit or ready-to-wear garment, you will see a serged seam. A home serger is a wonderful addition to any sewing room, especially if you sew lycras, knits or fleece. It's not necessary though, and is no substitute for a regular machine. If you are considering a new serger, consider looking at one that has a "cover stitch". This is a very professional looking stitch that is great for hemming and finishing knits of all kinds.
An industrial sewing machine is a heavy-duty machine. There are many different types. An industrial is very powerful, fast, and typically more single-task suited than a regular sewing machine. A typical industrial will do 2000+ stitches per minute as compared to 600-800 on a home sewing machine. Industrials also have separate motors, usually between 1/3 to 1/2 horsepower, and are built into a large table that takes up quite a bit of space. If you are going to be sewing heavy materials, multiple thickness of heavy fabrics, or quantities of items, an industrial machine might be a good investment. I use a "walking-foot" (dual-feed) upholstery machine for all of my heavy projects.
The problems with using a home machine are generally not enough 'piercing power' for many heavy fabrics, an inability to feed difficult and thick fabrics properly, and an inability to use the extremely heavy (upholstery nylon) thread that is recommended for strength. Again, here is where you need to know your sewing machine's "personality". Some home sewing machines will handle anything that comes their way, others will give you fits. If you decide you need an industrial, watching the wants ads is a great way to find one.
A WORD ABOUT THREAD AND NEEDLES:
Poor thread probably ruins more projects than anything else. You must use a top quality, 100% polyester thread. Stay away from the typical "cotton covered polyester core" thread that is found in all fabrics stores. It will shred, rot and is very weak. Brands to look for are: Metrosene, Molynecke, or Gutermann. They are much stronger, won't rot, and come in many colors. For sewing anything heavy, such as packs and webbing, a heavy duty nylon is recommended. "#69 Nylon" is commonly used in the industry. If you can find a nylon upholstery thread, it is going to be very similar. Another good size thread to use is a #40 cotton-poly thread, (tex-40) or #30. This is commonly used for clothing and tents. You must use a big needle with these threads, at minimum a #100. The problem that most people have with heavier thread is that the bobbin case machining does not allow for the extra thickness of the thread, causing all sorts of bobbin jams and bird's nests on the underside of the fabric. Potential solutions include loosening your bobbin tension (only for the experienced), or purchasing a separate bobbin case just for heavy duty thread. For example, I absolutely cannot run heavy nylon #69 in my Bernina, but I can use a 30 or 40 weight.

Using old needles, or using the incorrect size needle is another source of problems and frustration. A good rule of thumb is to put in a new needle for every project. Synthetic fabrics dull needles very quickly, so you may even want to change halfway though a project. Needles can develop burrs that will damage the fabric by cutting the threads as you sew. Choose the correct size; don't just assume that any needle will work. I typically use a #90 or #100 . If you are having problems with your thread "shredding" check your needle size. If you are having problems with skipping stitches, check needle size and/or get a new one.
Why you need to change a needle regularly: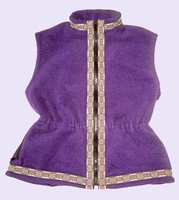 PATTERNS:
Mail order is the best option for patterns for making your own outdoor clothing and equipment. There is a terrific selection available but chances are your local fabric store doesn't carry them. "Kwik-Sew" and "Stretch-and-Sew" are nationally available lines that have some good patterns suitable for fleece and some types of outerwear. You can find more technical patterns for everything from bivy bags to gloves and ski pants from the suppliers listed on the "sources" list below. Some pattern lines to look for are: Controlled Exposure, Green Pepper, DK Sports, Jalie, Kwik Sew, Green Pepper, and Storm Mountain. See the sources listings for places to get patterns.
FINDING FABRICS:
SOURCES listing now here
Finding specialized outdoors fabrics has been traditionally the biggest challenge. There are small stores that do cater to the outdoors community, but they are few and far between. If you have specific fabrics that you are looking for, mail order is your best option. There are many terrific mail order sources that have everything you need for outdoor sewing projects: patterns, notions and hardware. I have also found that if you are a good shopper, and know what you are looking for, it doesn't hurt to 'cruise' regular fabric stores; you just might get lucky. In my experience, though, you will get both the best products and the best prices, plus knowledgeable service, from mail order specialists. Source listings for all types of fabrics, not just outdoors, can be found at Fabrics.net a very comprehensive internet resource site, and there is a full list of outdoors fabrics stores just below.
There are SO MANY types of technical outdoors fabrics; the technology and terminology can be overwhelming and confusing. Many fabrics are made specifically to a manufacturer's specifications; these are called "proprietary" and are not available for general purchase. Triple Point Ceramic by Lowe is a good example of a proprietary fabric. There are many fabrics that may perform similarly that you CAN find from a fabric supplier.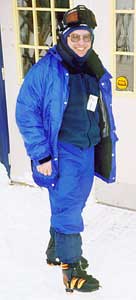 BOOKS:
Sewing Outdoor Gear: Easy Techniques That Really Work" By Rochelle Harper (Taunton Press, 2001) If you are looking for information on making really nice, technically beautiful and functional outdoors clothing, this is the book for you. Your questions on constructing mechanical features, using fleece and shell fabrics, and pattern adjustments are answered. In addition, you will find a great ease chart, tips for doing your own seam taping, design detail ideas and much, much, more. Look for some of my custom items on pages 42 & 43. Rochelle has a new web site under construction, Casade Layers. Great tips with photos illustrations on things like taping Gore-tex, and beautiful embellishment ideas.
There are a few other books I can recommend if you like to read to learn. Many traditional sewing books focus on what I call "home-ec" techniques, many of which do not apply to sewing outdoor items. The Singer Sewing Series has excellent instructions and step-by-step photos for many good techniques. There are 3 books in the series you might look at:
Sewing Essentials is a great basics book; if you are just getting started, this one would be a very good investment.
Sewing Activewear has good stuff on lycra and simple outerwear.
Sewing with an Overlock has lots of good information about using sergers.
Some other excellent books are:
Sew and Repair Your Outdoor Gear by Louise Sumner (Mountaineers, 1989) has good information and projects, but does not touch on fleece or waterproof breathable fabrics.
Sew the New Fleece by Rochelle Harper (Taunton, 1997) This book is absolutely terrific. It goes way beyond headbands and mittens, and is a wealth of excellent information. If you love to sew fleece, you have to have this book! About Fleece has some informative excerpts from Sew the New Fleece.


Shirtmaking by David Page Coffin (Taunton, 1993)This book has nothing to do with outerwear, but this is one terrific book that will help you perfect your sewing skills.


Adventures With Polarfleece by Nancy Cornwell (Krause Publications, 1997) More great tips for going a little farther with fleece: unique zippers, fashion ideas and embellishments.


The Entrepreneur's Guide to Sewn Product Manufacturing by Kathleen Fasanella. This book is a must have for anyone with an interest or desire to design, manufacture, and market their own sewn products. It's full of excellent information on production, marketing, sourcing, contracting, patterns, and many other useful topics. It includes a step-by-step checklist that covers everything from concept to delivery. Why re-invent the wheel trying to figure this stuff out by yourself? This book is geared to the "design entrepreneur" and the independent manufacturer, which means it was written for people like you and me. I highly recommend this book. Available from Southstar Supply.
NEOPRENE:
Neoprene is commonly used in wetsuits and at the openings on paddle and spray clothing. I have had good success sewing 1/8" neoprene on a regular sewing machine when making paddle jackets for my kids. Use a large needle (#100), and probably a walking foot ( even-feed foot). You can use a serger to attach the neoprene to your main fabric, and then topstitch. You can also do butted seams with a zigzag stitch. The keys, I have found, are to use a large needle, and a long stitch, and really good thread. At this time, I have not yet had a chance to experiment with Polartec 2000s (fleece bonded to neoprene) but be assured that I will write about it when I have! Neoprene is one of those things that you will need to experiment with on your own equipment to find what works.
COATED FABRICS:
"Coated" generally refers to any fabric that has a urethane coating for water repellency and water-proofness. Whether any given fabric is waterproof or water repellent depends on how much coating is on the fabric. Urethane coating is measured in ounces per yard. A typical coated nylon ripstop will have 1/2 to 3/4 oz. coating, with coatings of up to 1.5 oz. available. In my experience, it is best to ask about the weight of a coating if it's not given, that way you will get the appropriate fabric for your purpose. For rainwear and anything that needs to be waterproof look for at least a 3/4 oz. coating. "Sealcoat" and "stormproof" are two types that have a heavy urethane coating. Be sure and ASK about the weight on a coated fabric is you have a specific need. Get samples, if you can; it's easy to tell the various coating weights when you can feel and compare them. I have had the experience in the past of purchasing a coated fabrics, only to find out after making something that it was not waterproof, only barely water repellent. You will need to seal your seams with Seamgrip® for maximum waterproofing.

Some potential problems with working on urethane coated fabrics include having the needle gum up and difficulty of feeding the fabric through the feed dogs. The gunk can be cleaned off a needle with a little bit of rubbing alcohol, and for feed problems try putting paper between the feed dogs and the fabric, or using a walking foot.